Zielone Wzgórza is a quiet oasis on the edge of Przywidz, a charmingly situated Kashubian village, 30 km from Gdańsk, right next to a beautiful forest, on a hill, on the shore of a lake, from which we are only separated by a path to the forest. You will not find noisy attractions with us, you will not stroll along the promenade, being in the center of attention. In the Green Hills you will find peace and quiet, and time will slow down, you will be accompanied by the noise of trees and birds singing, the croaking of frogs in the evening and the crackle of sparks when you sit by the fire.
Above all, we value contact with Mother Nature, we appreciate her salutary influence on our health and strength.
Our idea is for the guests to have fun among themselves, talk to each other, give each other attention and celebrate moments together, and thus build deeper and more valuable relationships.
That is why, among other things, we consciously gave up TV sets in our houses. On the other hand, our travelers have at their disposal board games and puzzles, as well as a large library with books. There is free Wi-Fi on the premises of the Center, but in the dugouts, due to their location and construction, the range may be limited. As we appreciate the charms of sweet doing nothing, in our village you relax, taste the drinks and dishes, and if you are bored, there are plenty of activities within 50 to 500 troll steps, during which you can get very tired ... (footgolf , mazes in corn and wooden, horse stud, balloon flights, rope park, water equipment rental, paintball, shooting range, ski slopes, hiking and cycling routes).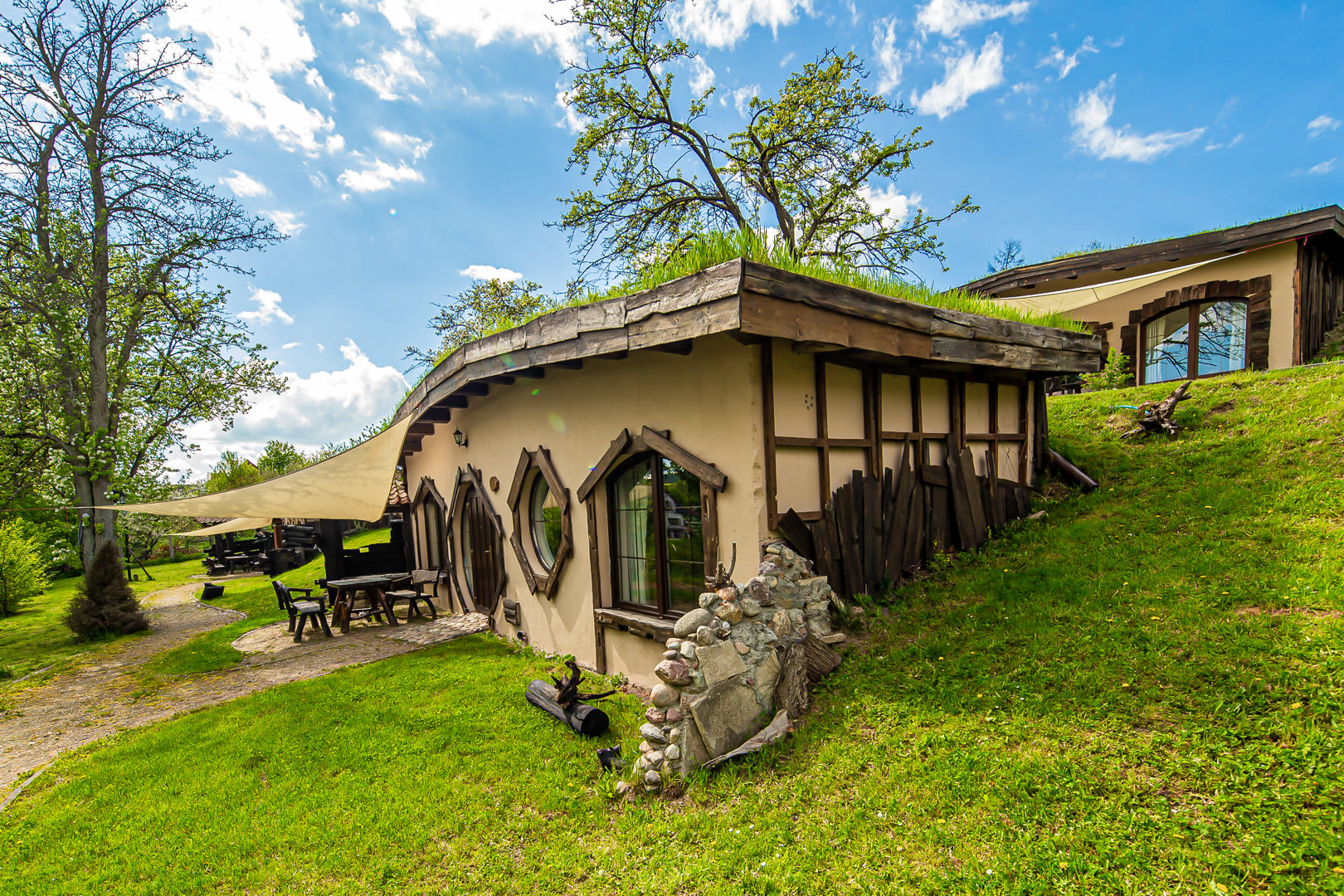 Our huts
A village of cottages, situated on a green hill, between old apple trees and paths with pebbles. You can feel like you are in a different world and free yourself from the stress and rush of everyday life.
There are 10 amazing bungalows at your disposal: five for up to four people and another five for up to six people.
There is a small square with wooden garden furniture next to each cottage. In the autumn and winter season, the houses are heated with a "goat" fireplace and additionally have electric heaters. All cottages are equipped with bed linen and towels. Each cottage has a kitchenette with basic crockery and cutlery, a cordless kettle and a refrigerator. There is no cooking option in the cabins. The bathrooms have showers, toilet, sink and clothes dryer.
Fairytale surroundings
All houses are facing the windows (south elevation) towards the lake, three of the houses have a direct view of the lake (in the first line of buildings). The houses are separated from the lake by a wooden fence and a forest path. The lake is approx. 50m. There is a sandy beach in the area, guarded by lifeguards throughout the holidays.
The Green Hills are situated right next to the forest, where the 8 km Nordic walking / cycling route around the Przywidzkie Lake begins, and the 72 km bicycle route begins.
There is a well-stocked grocery store 50 meters from our free car park. At a distance of about 700 m there is a supermarket Biedronka.